A force

to be reckoned with

Walkinshaw, Australia's leading producer of automotive performance cars, has teamed up with Volkswagen to create a ute for the driver that likes to forge their own path. It's both powerful and dynamic, with bold and aggressive styling. Register your interest to stay ahead of the pack.
Creating a new
Aussie icon
Ben Porter, Volkswagen Drive Instructor and GT Race Driver, talks us through how Walkinshaw teamed up with Volkswagen to create this performance powerhouse.
Register Your Interest
Performance with
heart and soul
Here to kick things up a gear.
The Amarok V6 W580 is a powerful performer that's hard to beat. It's been engineered by leading automotive performance engineers to go from strength to strength on the road.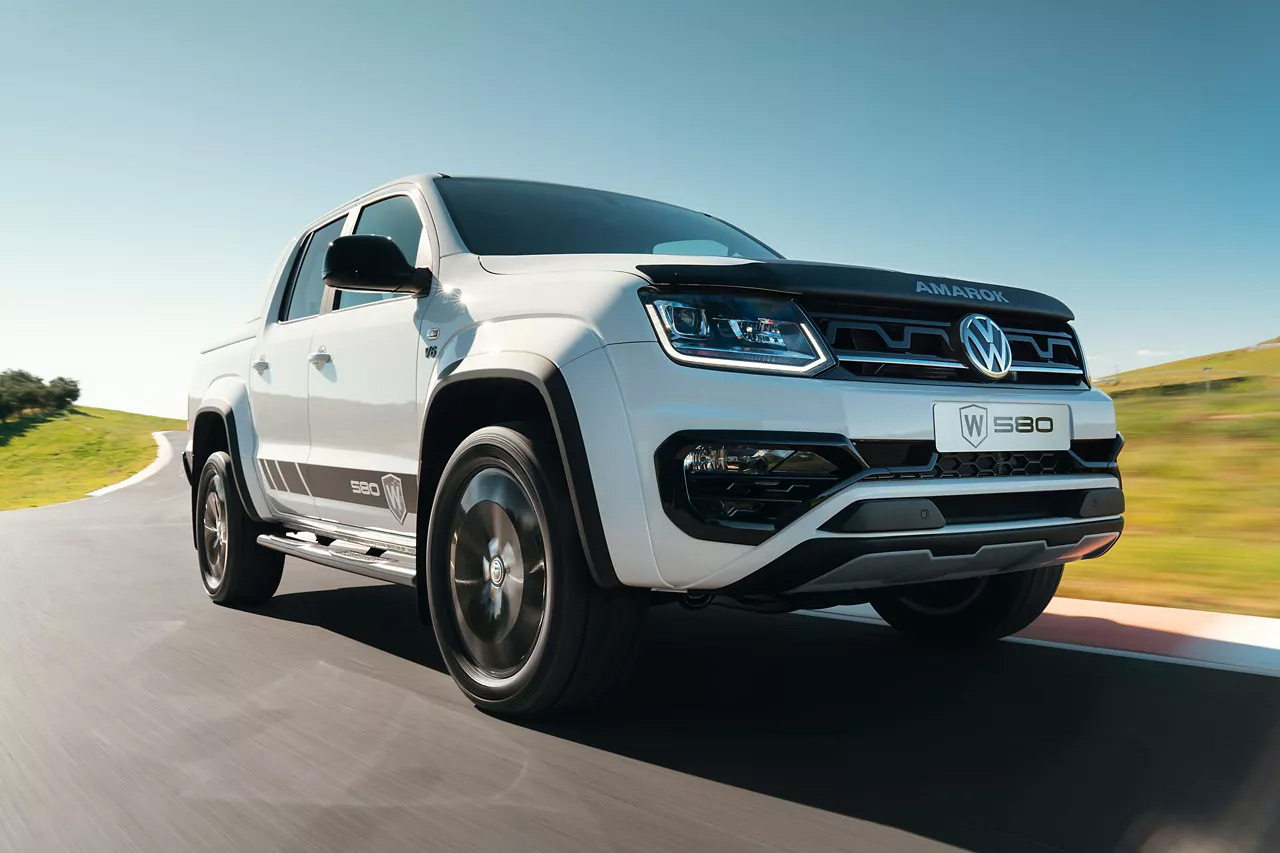 Engineered for performance
Set to rule the road, its dynamic performance is seen up front in the raised spring platform and a new, larger shock absorber tuned by the Walkinshaw chassis engineers for a more focused and direct handling experience.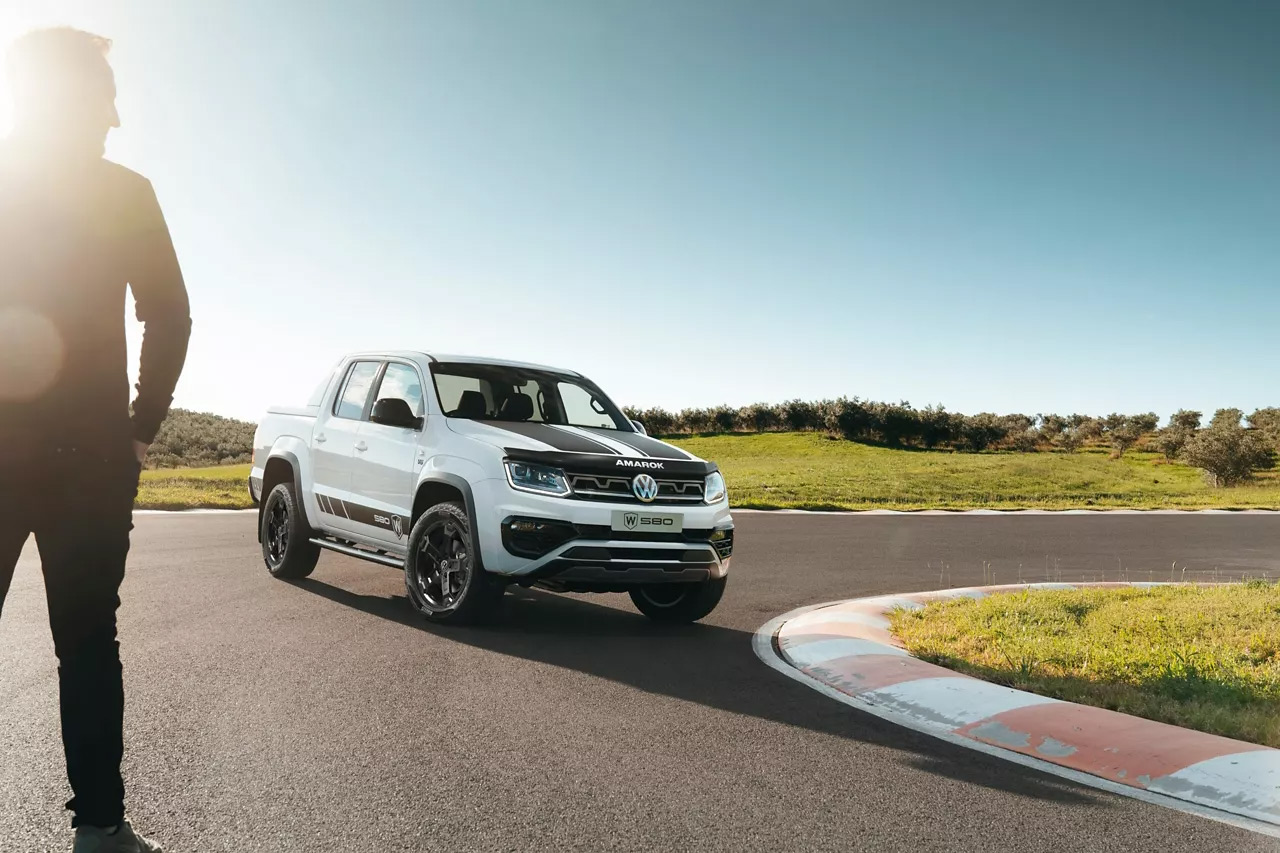 Power you can feel
Out the back, you'll find a performance-tuned twin exhaust which has been added for maximum impact.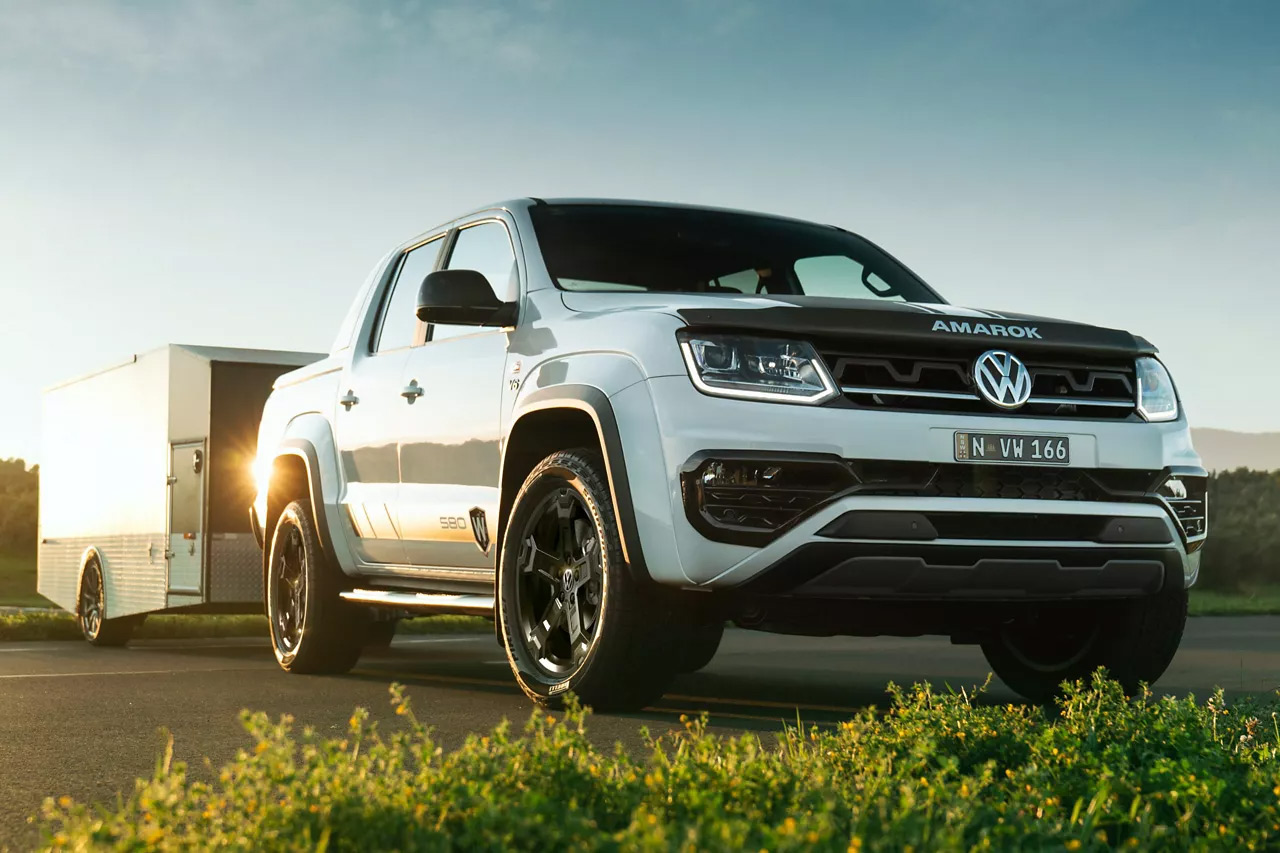 Control in all conditions
A larger Pirelli Scorpion ATR tyre gives the perfect balance of all-season tarmac and gravel road performance.
A once-in-a-lifetime

Walkinshaw experience could be yours

Be one of the first to own Australia's iconic ute.
Walkinshaw Experience
Register your interest to get your exclusive update on when the Amarok V6 W580 becomes available for pre-order. You'll want to be super quick, the first 30 vehicles sold will receive a 'money can't buy' experience including:
Walkinshaw factory tour
Walkinshaw Andretti United track day experience
Flights (Excluding Victorian based residents)
Accommodation
Meals
And transfers
Read Terms and Conditions
Register your interest
Next
Steps
---
Amarok W580 Walkinshaw experience
Terms & Conditions
Volkswagen Group Australia Pty Ltd ABN 14 093 117 876 (Volkswagen, us or we) is launching the new Amarok W580 model vehicle (Vehicle) in Australia. Volkswagen plans to make a limited allocation of 30 Vehicles available to order online before the end of 2020 (Presale Event).
The first 30 customers to complete a purchase of a Vehicle as set out in these terms and conditions (Customers) will receive an 'exclusive Walkinshaw experience' as follows on dates to be determined by Volkswagen in May 2021:
a. for Customers who live outside Victoria, one economy class flight from their nearest capital city to Melbourne;
b. 1 nights' accommodation for one person in a 4 or 5 star hotel in Melbourne;
c. Walkinshaw Factory Tour;
d. Sandown Walkinshaw Track Experience;
e. Personalised Gift Pack;
f. Meals; and
g. Transfers to and from the airport in Melbourne and the events above
(Walkinshaw Experience)
To be eligible to purchase a Vehicle, Customers must be:
a. Australian residents;
b. 18 years and over;
and
c. comply with these terms and conditions.
To be eligible for the Walkinshaw Experience, Customers must be available in May 2021 to participate in the Walkinshaw Experience and must be one of the first 30 eligible customers during the Presale Event to:
a. Pre-order a Vehicle online when they go on sale in December 2020
b. agree to the Online Vehicle Deposit Agreement Terms and Conditions in relation to the Vehicle
c. pay a $1,000 deposit (Deposit Fee) that is refundable in accordance with the Online Vehicle Deposit Agreement terms and conditions;
d. Sign a contract of sale with your nominated authorised Volkswagen dealer (Dealer) for the Vehicle (Dealer Contract of Sale);
e. pay the Dealer the purchase price you agree with the Dealer for the Vehicle less the amount of the Deposit Fee; and
f. take delivery of the Vehicle by 31 April 2021.
A Customer can only buy one (1) Vehicle during the Presale Event.
The Walkinshaw Experience can only be used by the Customer who purchased a Vehicle, and is not transferrable to a third party without Volkswagen's prior approval (at its discretion). Any such approval will be conditional on the third party recipient agreeing to these terms and conditions.
Volkswagen will only provide the Walkinshaw Experience (or any other substitute gift under these terms and conditions) to the Customers who complete the purchase of a Vehicle as described in paragraph 4. If there are less than 30 such Customers, Volkswagen will only provide the Walkinshaw Experience to the relevant Customers who complete the Vehicle purchase.
Volkswagen reserves the right, at any time, to verify Customers' eligibility (including a Customer's entrant's identity, age and place of residence) and reserves the right, in its sole discretion, to disqualify any individual who Volkswagen has reason to believe has breached any of these terms and conditions, tampered with the entry process or engaged in any unlawful or other improper misconduct calculated to jeopardise fair and proper conduct of the Presale Event. Errors and omissions may be accepted at Volkswagen's discretion. Failure by Volkswagen to enforce any of its rights at any stage does not constitute a waiver of those rights.
The Walkinshaw Experience is subject to the standard terms and conditions of individual service providers. It is a condition of accepting the Walkinshaw Experience that you comply with any conditions of use of the relevant suppliers', including but not limited to any rules or conditions imposed by airlines or accommodation providers. As a condition of accepting the Walkinshaw Experience, you may be required to sign any legal documentation as and in the form required by Volkswagen, Walkinshaw or the venue operator for the Sandown Walkinshaw Track Experience in their absolute discretion, including but not limited to a legal release and indemnity form (or similar document).
Volkswagen expressly reserves the right, at its discretion, to eject a Customer (and/or any companion/s) for any inappropriate behaviour, including but not limited to intoxication, whilst participating in any element of the Walkinshaw Drive Experience.
The Walkinshaw Experience, or any unused element of it, is not transferable or exchangeable and cannot be taken as cash, and is forfeited if not used.
Customers accept that the COVID-19 pandemic (including any applicable government restrictions) or other factors beyond Volkswagen's reasonable control may affect the Walkinshaw Experience running as planned, or the ability of certain Customers to participate in it. Volkswagen, may, at its absolute discretion:
a. modify the Walkinshaw Experience (or any element of it);
b. change the dates of the Walkinshaw Experience; or
c. cancel the Walkinshaw Experience and provide Customers with a gift of equivalent or similar value.
If the Presale Event is interfered with in any way or is not capable of being conducted as reasonably anticipated due to any reason beyond the reasonable control of Volkswagen, including but not limited to technical difficulties, unauthorised intervention or fraud, Volkswagen reserves the right, in its sole discretion, to the fullest extent permitted by law: (a) to disqualify any entrant; or to modify, suspend, terminate or cancel the Presale Event, as appropriate.
Nothing in these terms and conditions limits, excludes or modifies or purports to limit, exclude or modify the statutory consumer guarantees as provided under the Competition and Consumer Act (Cth), as well as any other implied warranties under the ASIC Act (Cth) or similar consumer protection laws in the States and Territories of Australia ("Non-Excludable Guarantees").
Except for any liability that cannot by law be excluded, including the Non-Excludable Guarantees, Volkswagen (including its respective officers, employees and agents) is not responsible for and excludes all liability (including negligence), for any personal injury; or any loss or damage (including loss of opportunity); whether direct, indirect, special or consequential, arising in any way out of:
a. any technical difficulties or equipment malfunction (whether or not under Volkswagen's control);
b. any theft, unauthorised access or third party interference;
c. modifying, changing the date, or cancelling the Walkinshaw Experience;
d. participating of the Walkinshaw Experience (or the use of a substitute gift).
Without limiting paragraph 15, Customers may not bring any claim for loss or damage in relation to their purchase of a Vehicle if the Walkinshaw Drive Experience does not proceed as planned, and nothing in these terms and conditions affects or detracts from the Customer's obligations under:
a. the Online Vehicle Deposit Agreement Terms and Conditions; or
b. a Dealer Contract of Sale.
These terms and conditions are governed by, and are to be construed in accordance with, the laws enforceable in New South Wales, Australia. Each entrant submits to the exclusive jurisdiction of the courts exercising jurisdiction in New South Wales, Australia and any court hearing appeals from those courts.
Volkswagen collects personal information ("PI") in order to conduct the Presale Event and Walkinshaw Experience and may, for this purpose, disclose such PI to third parties, including but not limited to agents, contractors, service providers, suppliers and, as required, to Australian regulatory authorities. Entry is conditional on providing this PI. Volkswagen will also use and handle PI as set out in its Privacy Policy, which can be viewed at www.volkswagen.com.au/en/privacy-policy.html. The Privacy Policy also contains information about how entrants may opt out, access, update or correct their PI, how entrants may complain about a breach of the Australian Privacy Principles or any other applicable law and how those complaints will be dealt with.
Volkswagen would like to use photographs and video footage of Customers who have participated in the Walkinshaw Experience for the purposes of promoting Volkswagen, the Vehicle and the Walkinshaw Experience. At or before the time of the Walkinshaw Experience, you will be given legal documentation to sign (if you choose to do so) under which you give your consent to Volkswagen using your name, likeness, image and/or voice in any media for an unlimited period without remuneration for these purposes.